Secretary of the Arkansas Department of Education, Mr. Jacob Oliva, joined Graduate Arkansas for an inspiring visit to our dropout prevention/credit recovery high school. Mr. Oliva engaged in a thoughtful discussion as our team presented about our school, our dedicated students, and our unwavering goal as a charter high school focused on reconnecting disconnected youth. Together, we are committed to empowering every student to succeed and realize their full potential. #EducationMatters #DropoutPrevention #EmpoweringStudents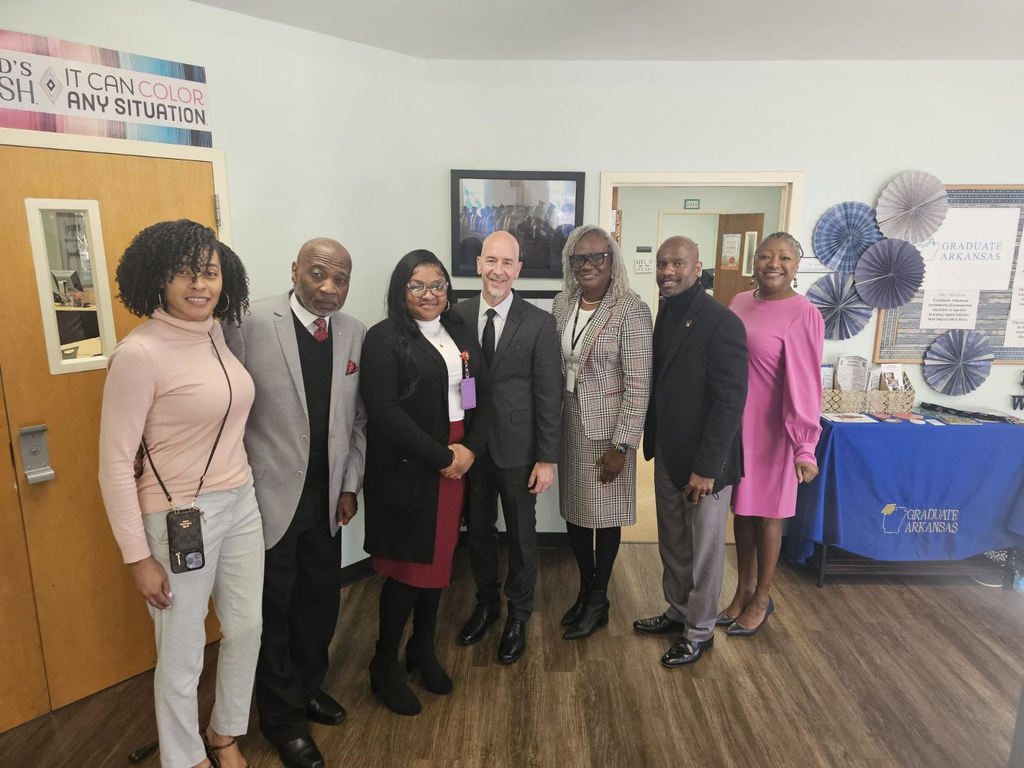 Thanksgiving Break November 20-24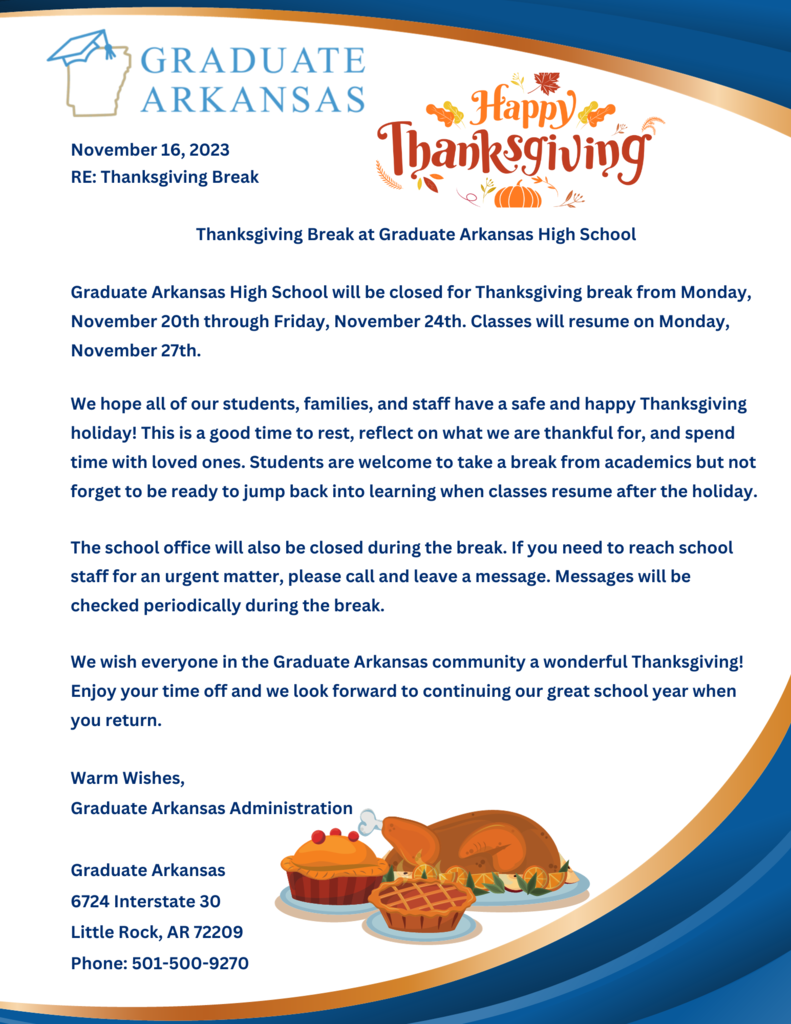 Happy Thanksgiving from the Graduate Arkansas family to yours. We are grateful for our amazing team of educators and professionals who make Graduate Arkansas a wonderful place to work and learn. Thank you to Bobbie D's for catering a delicious Thanksgiving dinner for our team to celebrate the holiday together. We hope you and your loved ones have a wonderful Thanksgiving as well.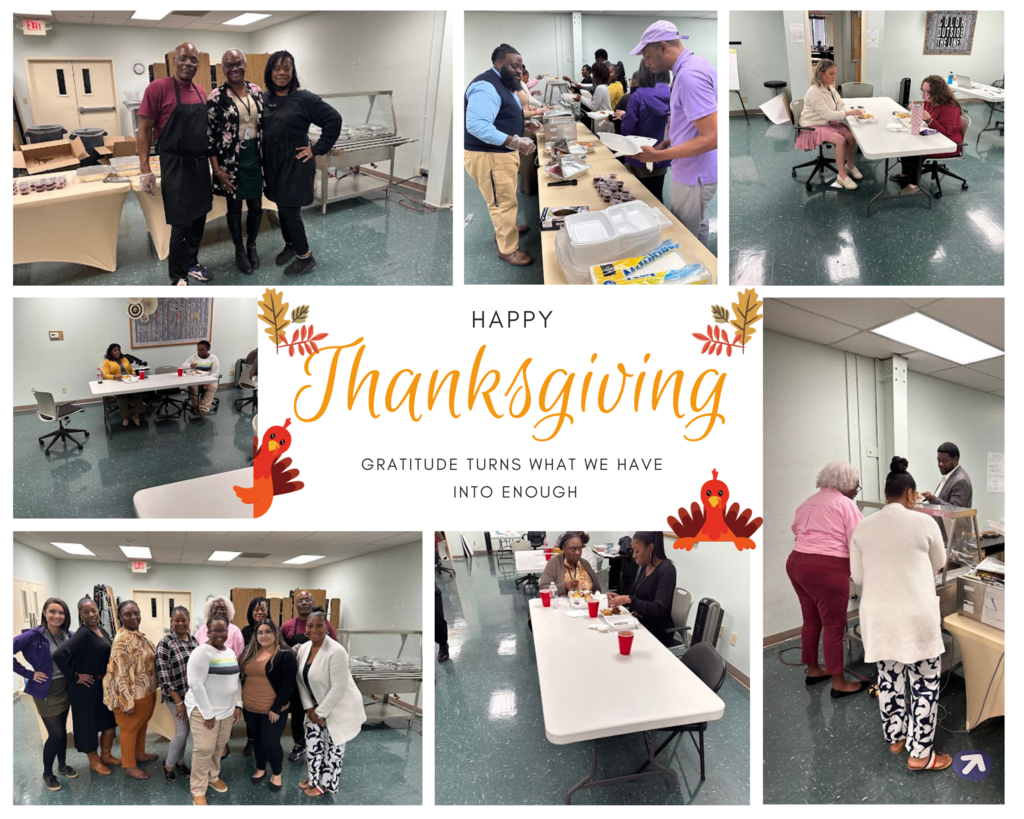 Carter's Crew has hosted a Unity in the Community in Faulkner County with Judge Braswell for two years. We decided this was the year to bring that event to Pulaski. In partnership with Restore Hope and Every Arkansan, we will host Unity in the Community on November 18th from 12pm-3pm in NLR at 1801 Crutcher Street. Unity in the Community is a time for all businesses, foundations, and organizations that provide a service to families in the area to collaborate. We will sign families up on-site for assistance/services and provide family entertainment, food, and a giveaway of household goods. We will have a community prayer and also a call to action. Each vendor will have time on the microphone to discuss your services to the community.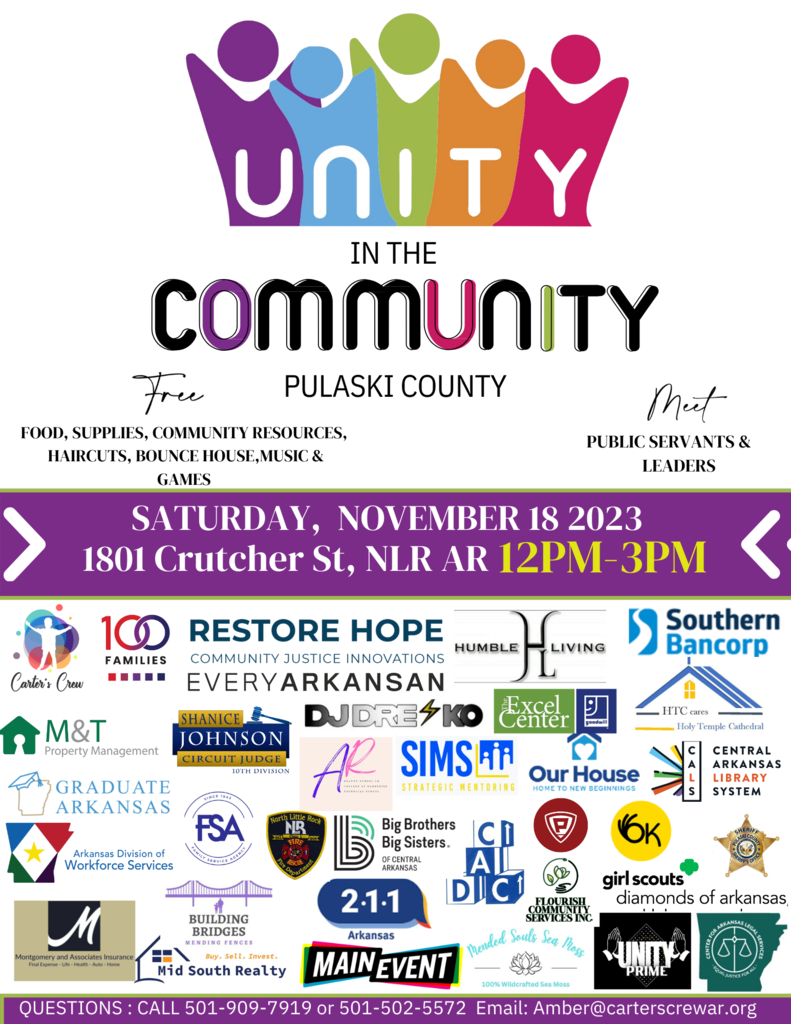 Check out our November Newsletter "G.A. Today"!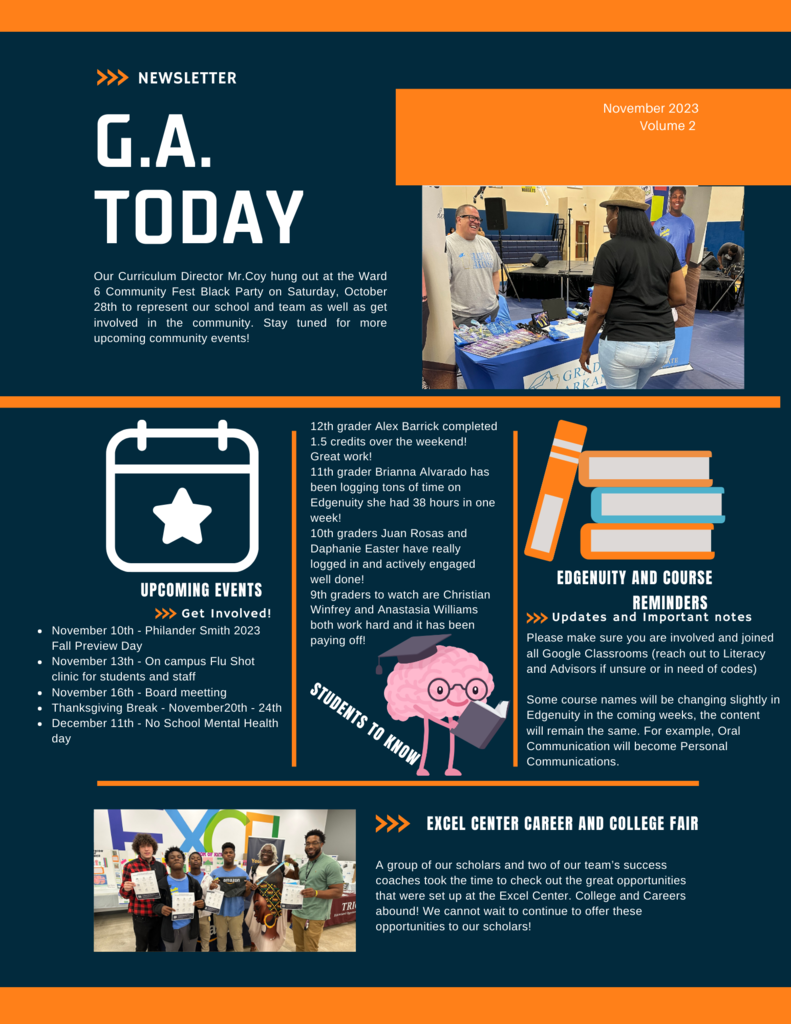 Good morning, Graduate Arkansas! Graduate Arkansas took a step towards brighter futures at the recent career and college fair held at the Goodwill Center. Our students explored exciting educational and career opportunities, opening doors to their dreams and aspirations.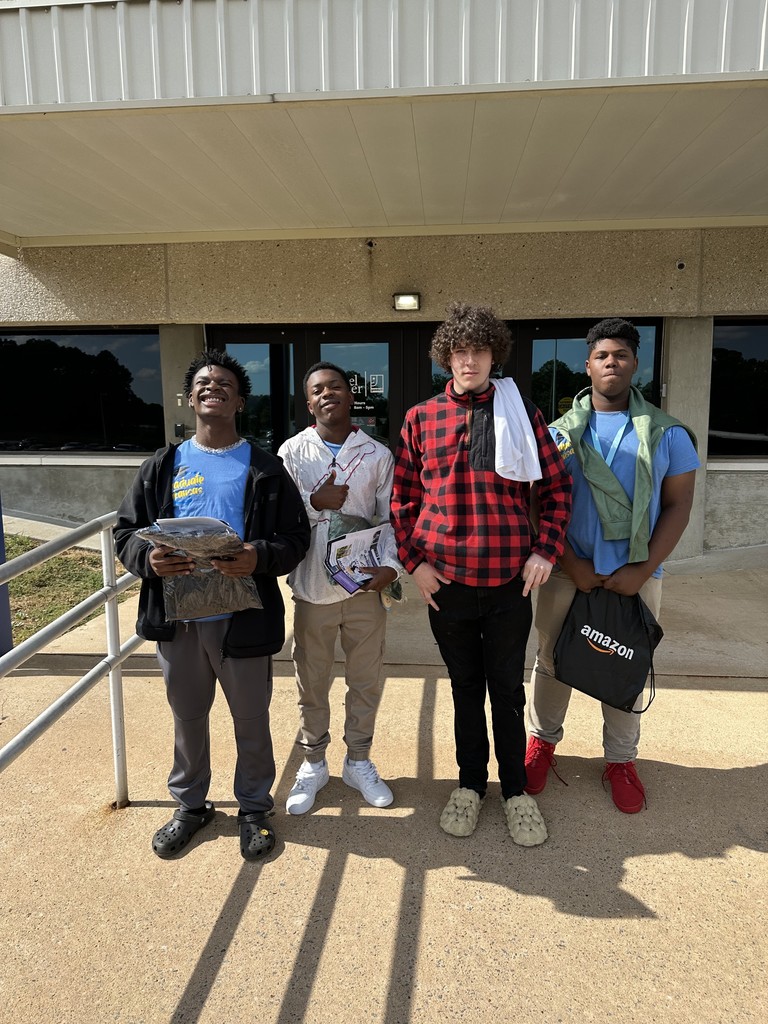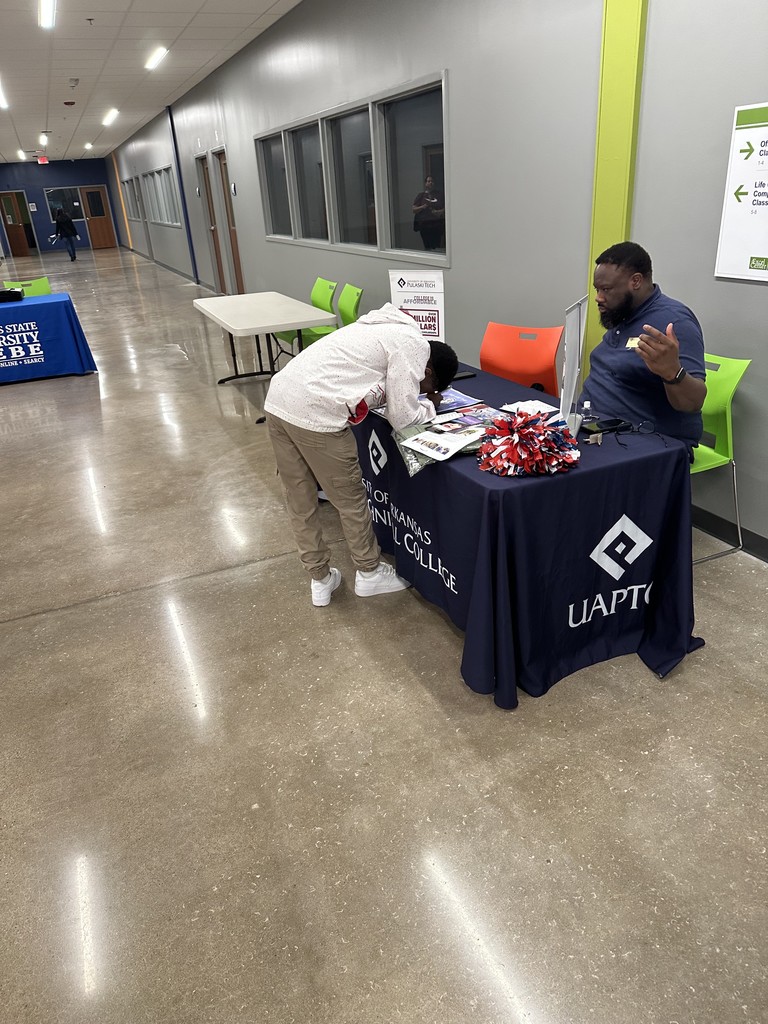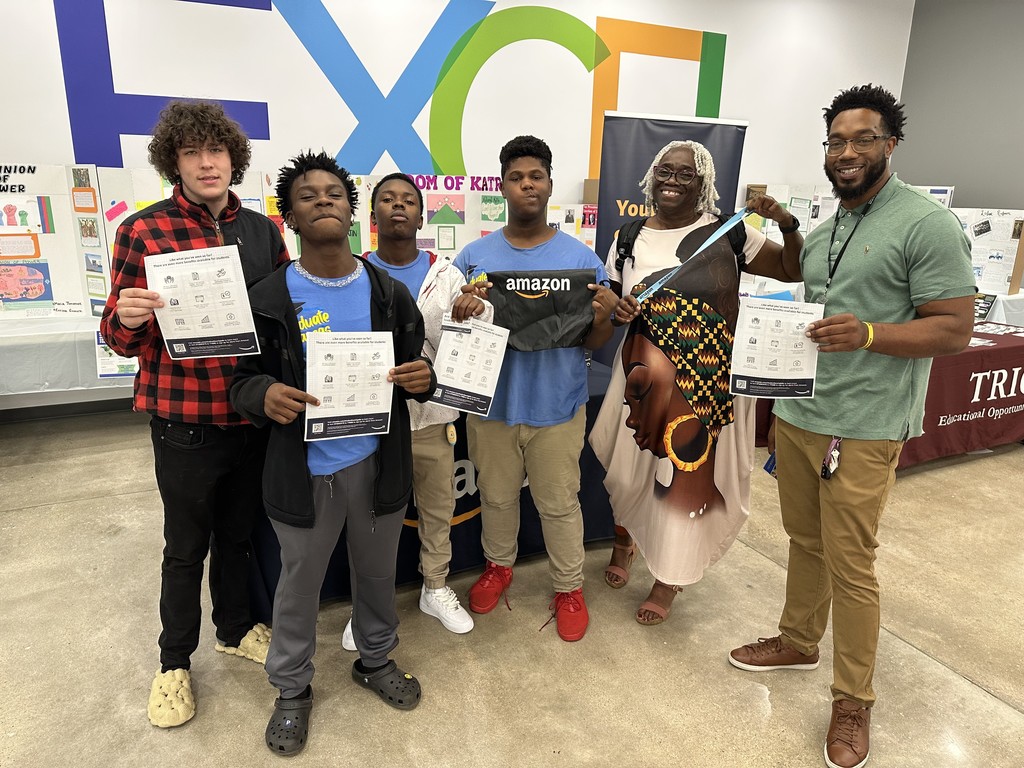 Philander Smith University's 2023 Fall Preview Day, is scheduled for Friday, November 10, 2023, from 9:00 a.m. – 2:00 p.m. Preview Day 2023 promises to be an experience that you will not want to miss!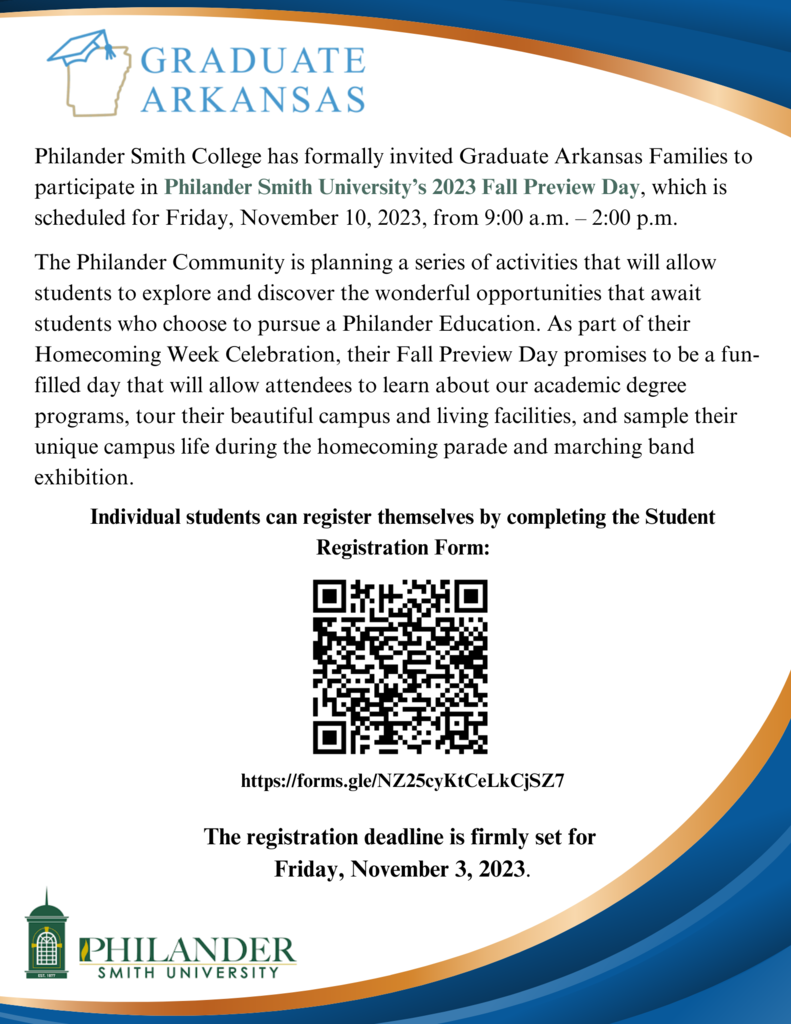 Happy National Boss's Day!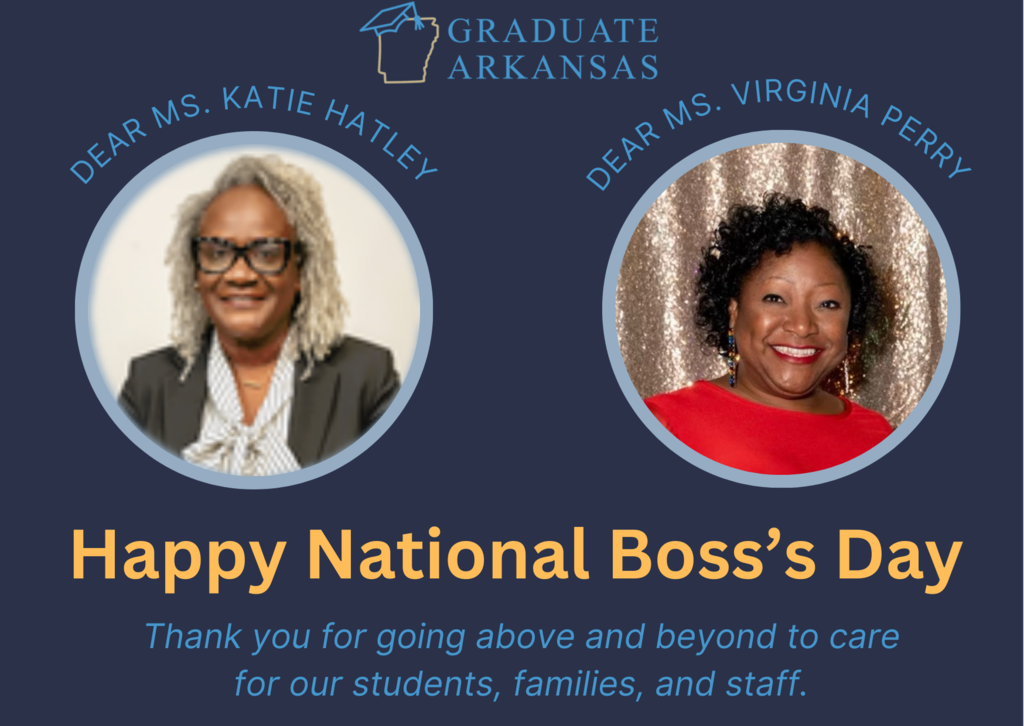 Good Morning, Graduate Arkansas, Don't Miss Out! Join Us at the STEM Career Fair, University of Arkansas at Little Rock! Explore thrilling prospects in the realms of Science, Technology, Engineering, and Mathematics. This event presents an excellent chance for students to connect and explore STEM career paths. Connect with prominent organizations, engage with professionals, and set off on your journey into the world of STEM. Save the date and we hope to see you there!
Good afternoon, Graduate Arkansas Families! Leasing for the recently built Holt District Homes in North Little Rock will commence shortly. To join the waitlist, please visit nlrhousing.org and complete the online application.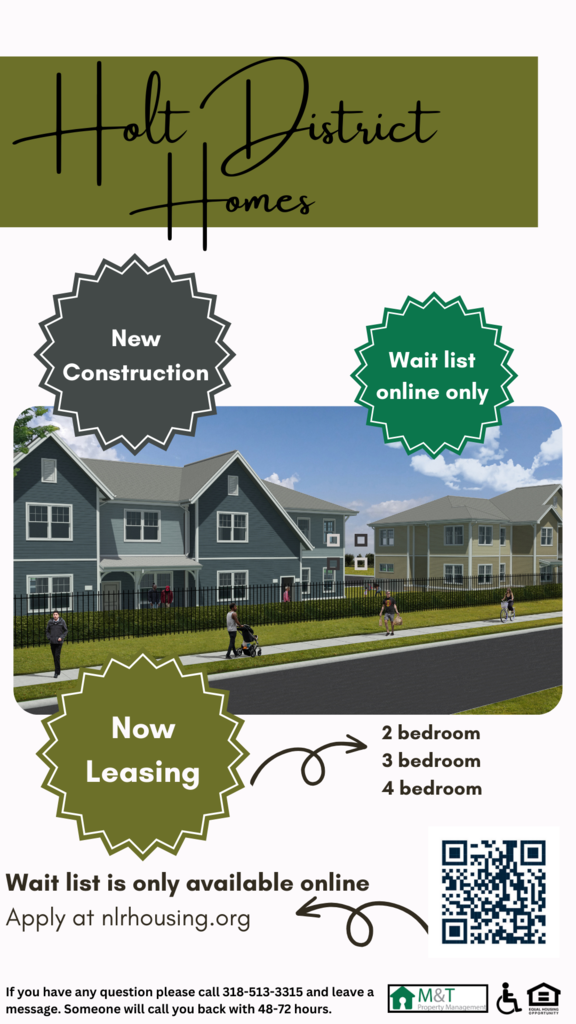 Good morning, Graduate Arkansas, Discover the extraordinary leadership of our Chief of Police at the helm of the Youth Advisory Council, proudly sponsored by the Little Rock Police Department. The Chief of Police Youth Advisory Council is now accepting applications from motivated, community-minded young leaders like you. Through this unique opportunity, you'll have the chance to work hand-in-hand with our Chief of Police to shape a safer, more inclusive, and vibrant Little Rock. Apply today!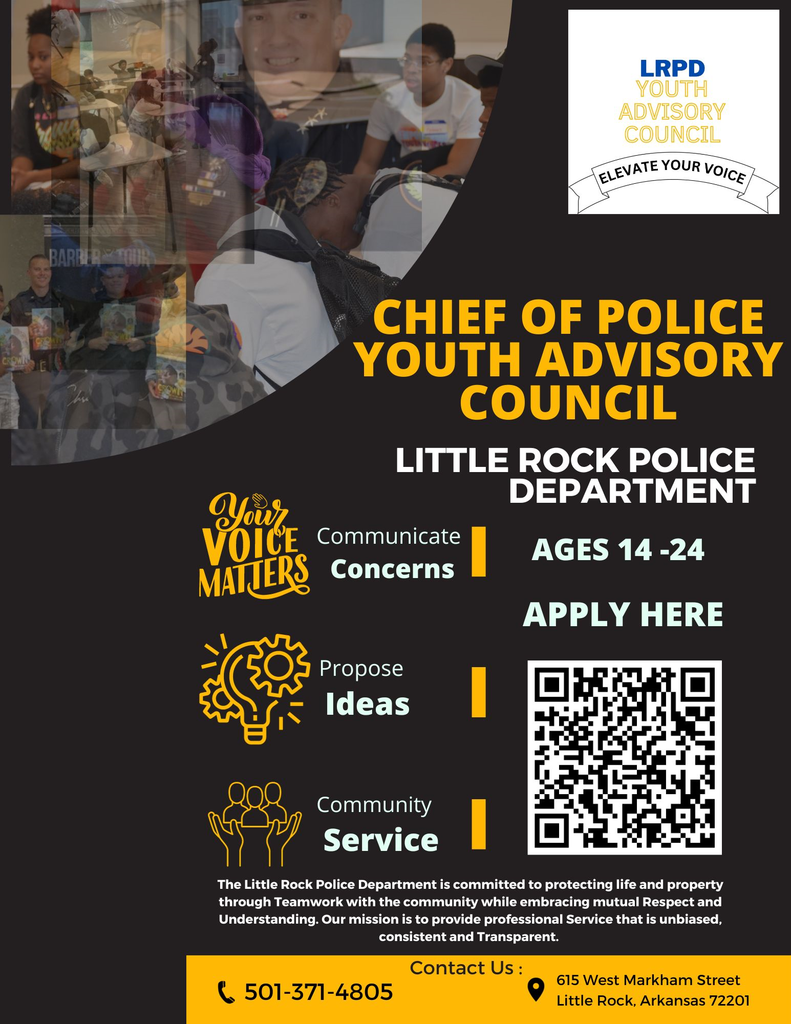 Good morning, Graduate Arkansas! We are excited to announce our math tutoring program, covering a wide range of math subjects. To make it as convenient as possible for you, we've created a Google form with various meeting time options. Don't hesitate—click the link attached to this flyer and complete the form to get the help you need! We're here to support your math journey.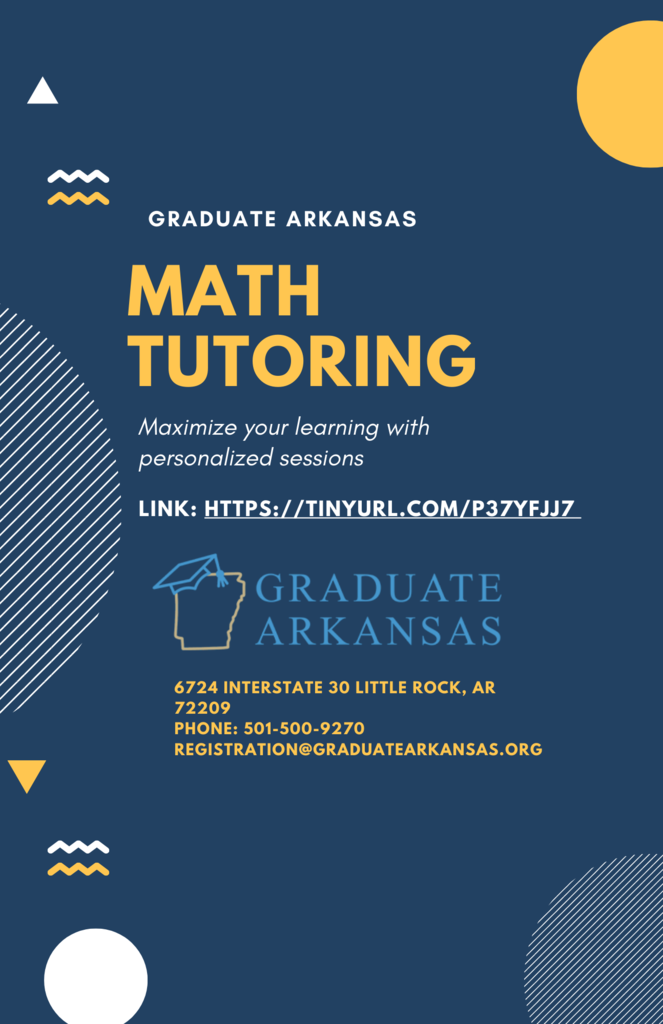 Good morning, Graduate Arkansas, Join us at the University of Arkansas at Little Rock's STEM Career Fair! Discover exciting opportunities in the world of Science, Technology, Engineering, and Mathematics. This would be a great opportunity for students to network and inquire about STEM careers. Meet leading companies, network with professionals, and explore your future in STEM fields. Mark your calendar and embark on your STEM journey with us!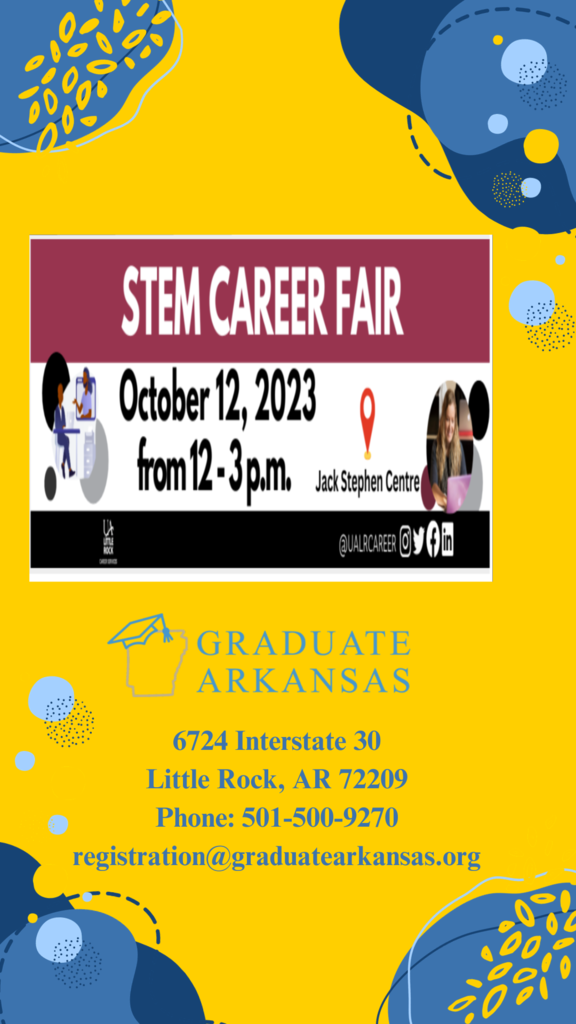 "Discover a lifeline of support in Arkansas for mental health, substance abuse, and community resources. Find the help you need to thrive and heal in your community."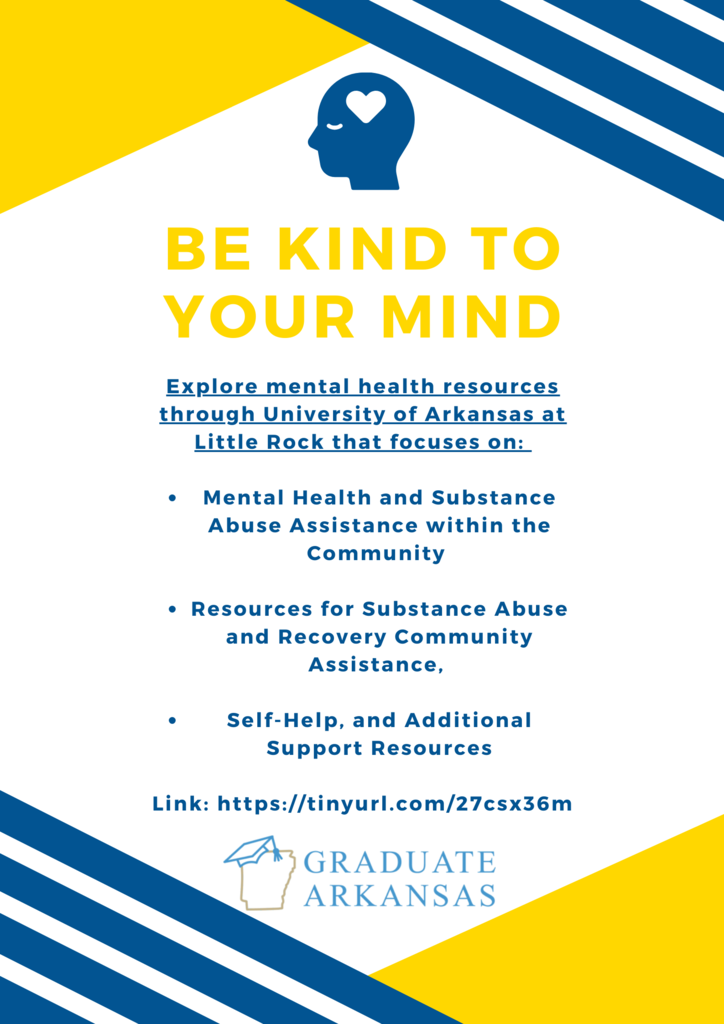 "Exciting Opportunities Await! 🎓 Join the Graduate Arkansas Charter High School team and be part of a dynamic educational journey. We're looking for passionate educators and dedicated staff members who share our commitment to student success. Explore our latest job postings and help us shape the future of education in Arkansas. Apply today and make a difference in the lives of tomorrow's leaders!"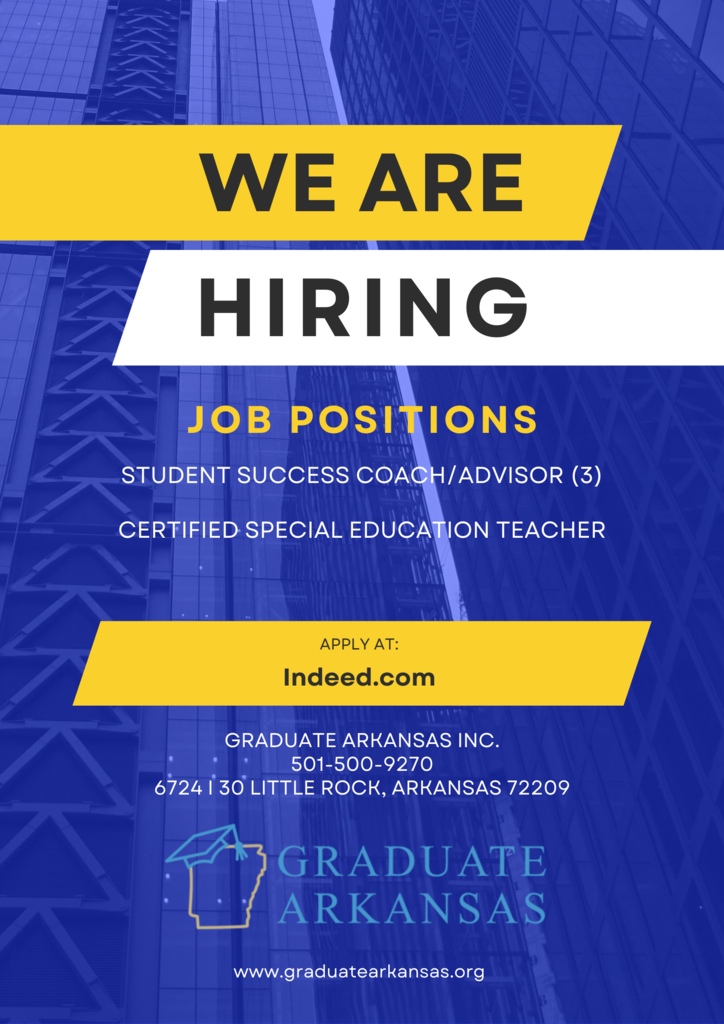 Good morning, Graduate Arkansas! Are you in search of mental health assistance in Arkansas? This comprehensive resource directory covers various forms of support available in every county throughout our state. Observe the Arkansas Mental Health Resource Guide - your compass to emotional well-being! 🗺️ Navigating life's challenges can be tough, but you're never alone. 🤗 Explore a wealth of support, therapy options, and coping strategies tailored just for you. 🧠 Let's break the stigma and prioritize mental health together! 🤝 Download your guide now and embrace a brighter tomorrow! 📚🌞 #ArkansasMentalHealthGuide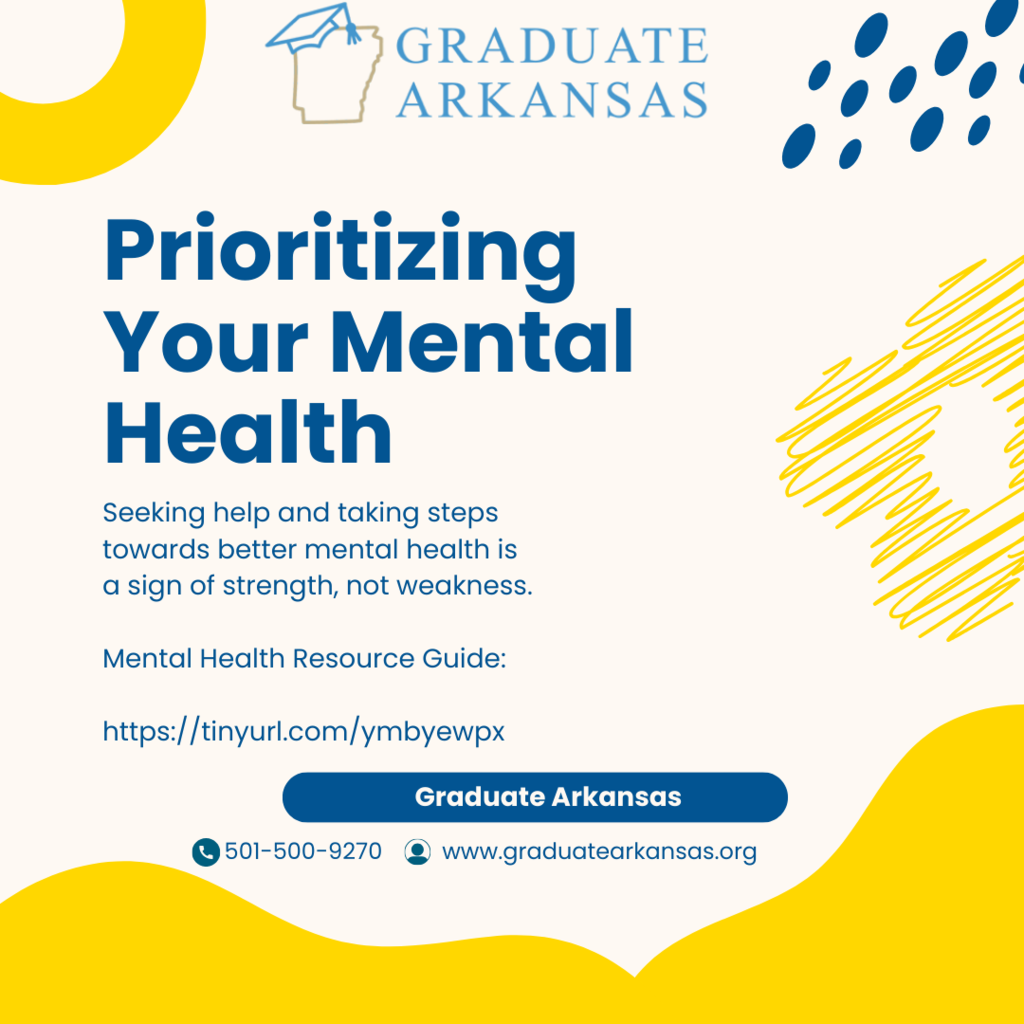 🌟 Exciting Opportunities Alert! 🌟 Are you a passionate educator ready to make a difference? We're on the lookout for dedicated professionals to join our team! 📚 Certified SPED Teacher: Do you have a heart for special education and the skills to make a positive impact in the lives of exceptional learners? We want you! 🌍 Certified ESL Teacher: Are you fluent in the art of teaching English as a Second Language? 🌟ESOL High School Paraprofessional! Make a difference in the lives of English learners, providing vital support in their educational journey. Join us in empowering students to reach their language goals! If you're passionate about empowering students through language and culture, we want to hear from you. If you hold certifications in these fields or are enthusiastic about exploring these incredible prospects, kindly submit your application through Indeed.com.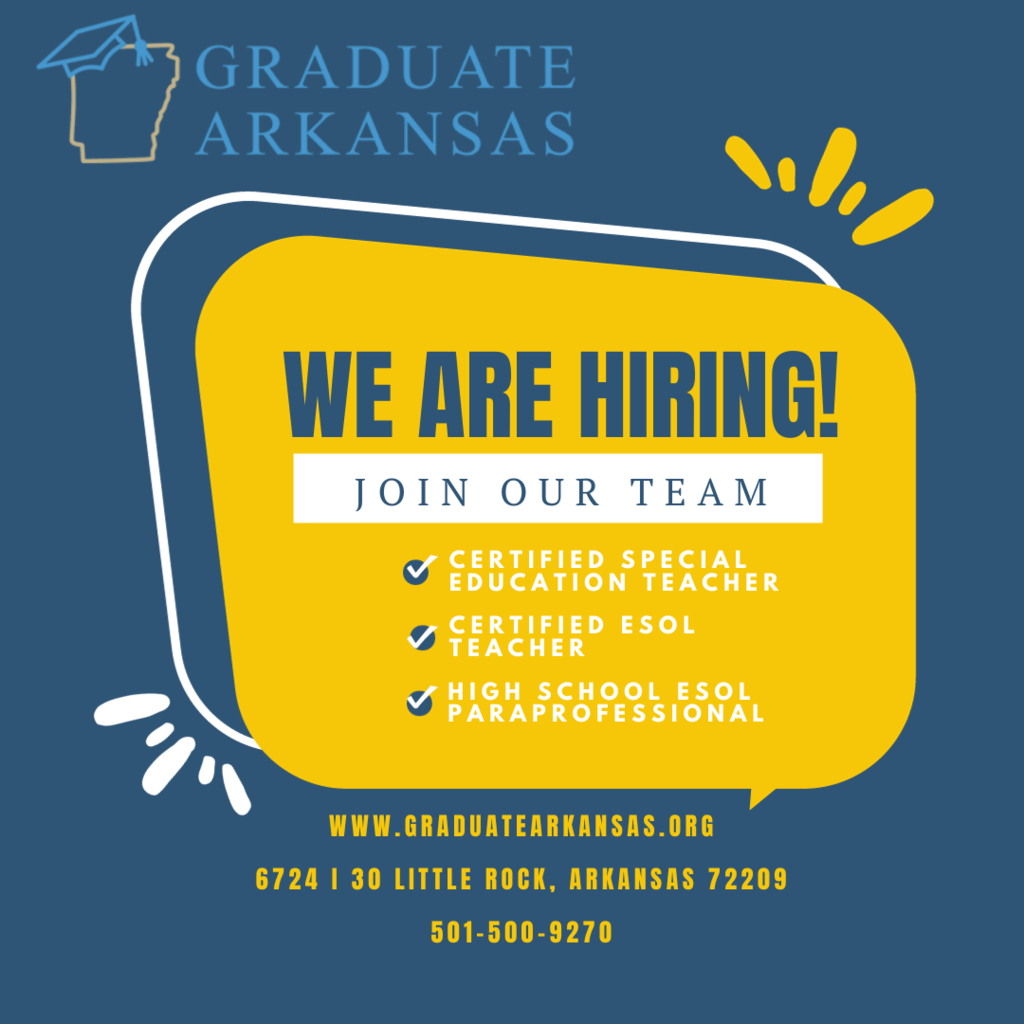 Good morning, Graduate Arkansas, 📚 Get Ahead with Pulaski County Youth Services' FREE Fall ACT Prep Sessions! 📚 Pulaski County Youth Services is excited to announce FREE ACT Prep Fall Sessions, specially designed to help you excel in your academic journey. 🌟 What to Expect: ✅ Expert Guidance: Our experienced instructors will provide comprehensive ACT test strategies, tips, and practice materials. ✅ Personalized Support: Tailored sessions to focus on your individual strengths and weaknesses. ✅ Confidence Boost: Gain the confidence you need to tackle the ACT with ease. ✅ College Dreams: Open doors to your dream colleges and scholarships. Have a wonderful Wednesday!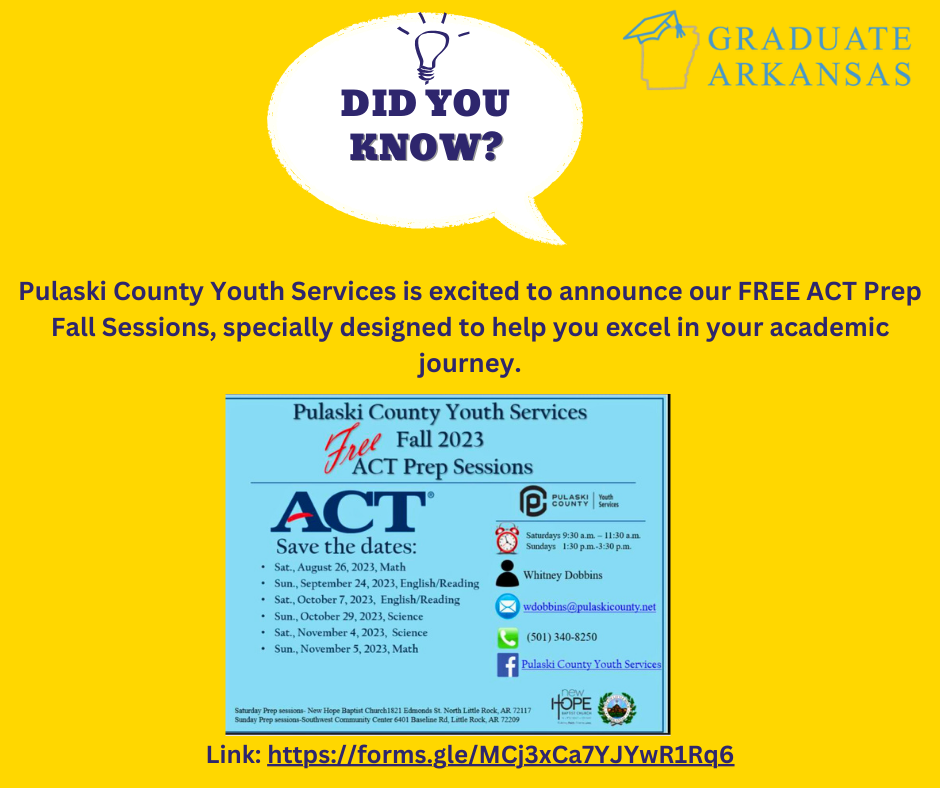 📚 Unlock Your Future at Graduate Arkansas Charter High School 🎓 Ready to excel in high school? Join us at Graduate Arkansas Charter High School, where we offer a specialized credit recovery and accelerated path program for students in grades 9-12. 🚀 Our dedicated team is committed to helping you reclaim your academic journey and prepare for a brighter future. Enroll now to discover personalized learning, supportive teachers, and a pathway to success. 🌟 Don't miss this opportunity to accelerate your education and achieve your goals. Apply today! 📝 #GraduateArkansas