Good morning Graduate Arkansas! The Arkansas Times is thrilled to announce the release of the 2023 Arkansas Times College Guide! This complete and accessible resource has been created in collaboration with local colleges and universities to provide valuable information on higher education and career opportunities right here in Arkansas. The goal is to keep students engaged in Arkansas's local colleges and job market. This comprehensive and adaptable information also includes the Nurses Guide, which will be available in September, to further support their career aspirations. See the link below:
https://tinyurl.com/wvptcsve
Join Graduate Arkansas for a fun community event! Enjoy food of purchase from food trucks, listen to your favorite music from the local radio station, enter to win football tickets, meet with university recruiters, and learn about enrollment! Don't miss out on this amazing event!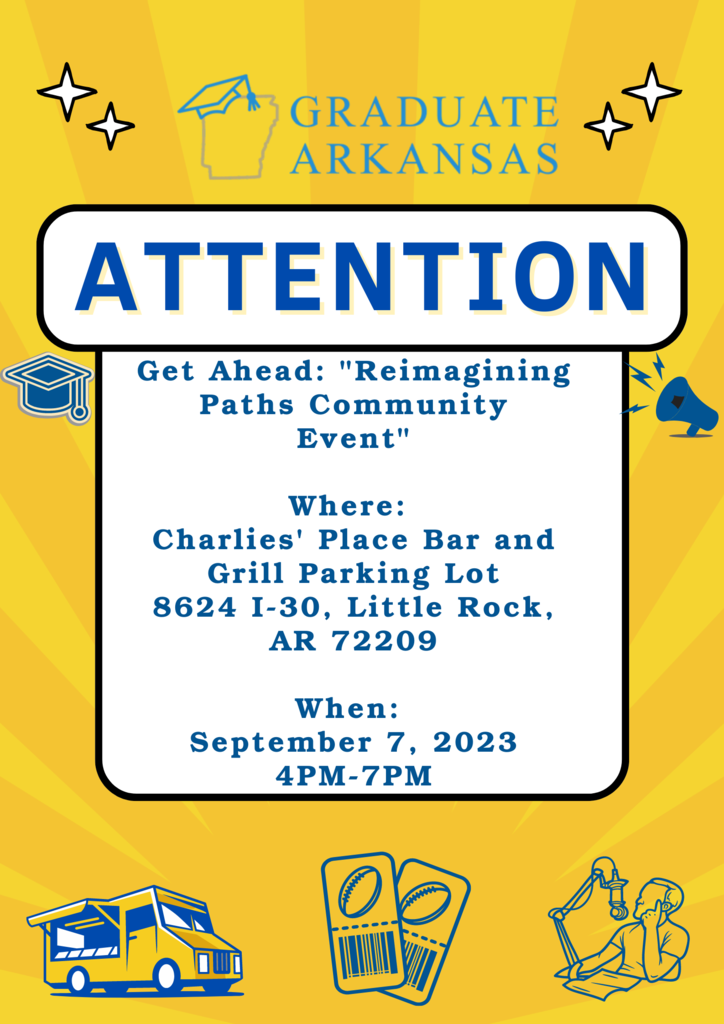 As we move into our 3rd week of school, we would like to shout out all of the outstanding GA students who have been logging in to ensure their path to graduation. Your hard work and dedication has not gone unnoticed!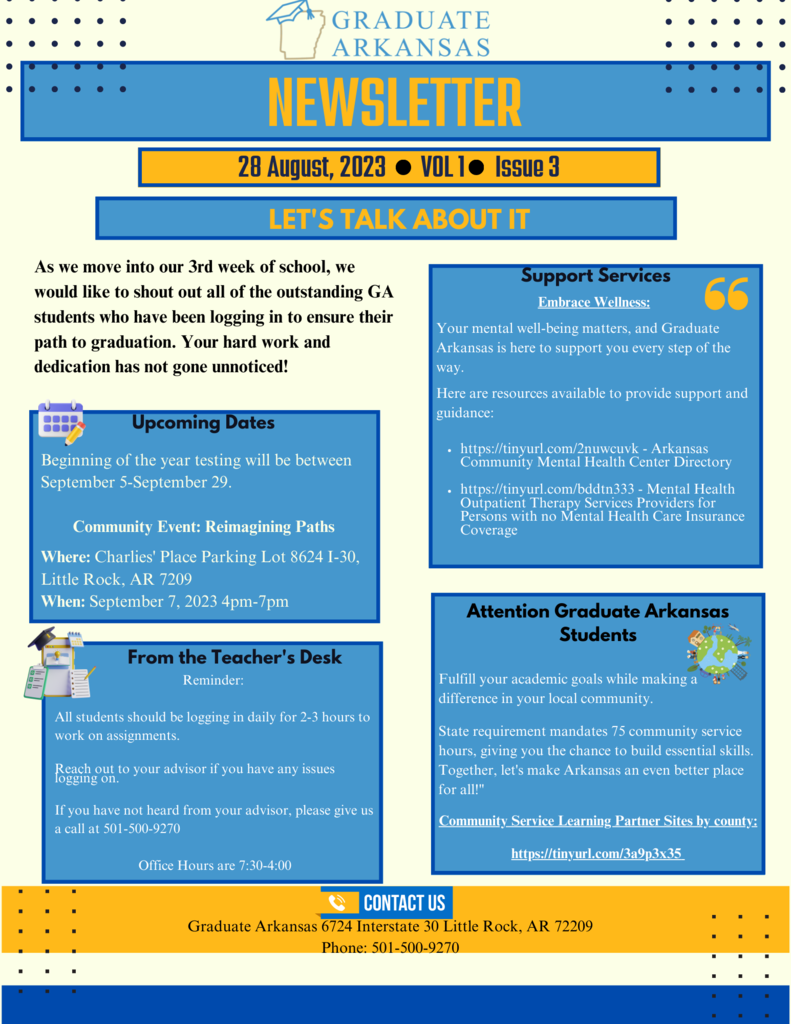 Good morning! Come join us for a fun-filled evening at our community-wide event! There will be free food, a chance to win football game tickets from Power 92 Jams, delicious food trucks, and recruiters from local universities and programs such as UALR, UAPB, Good Fellas Barber College, and many more. Don't miss out on this amazing opportunity!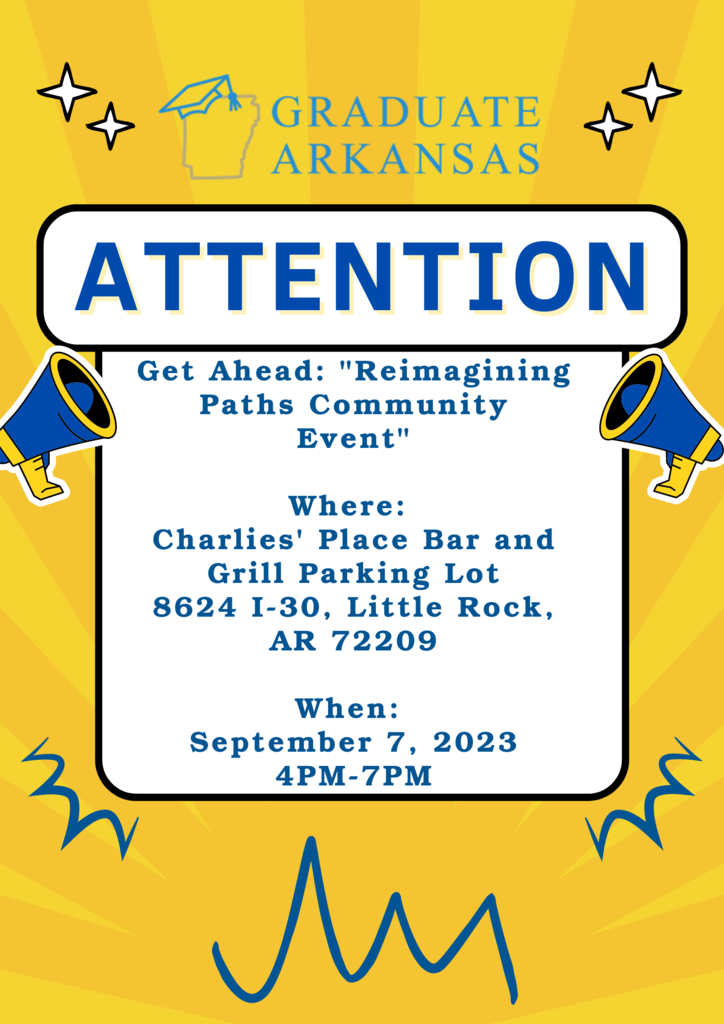 Good morning, GA Families, Arkansas offers a variety of mental health resources to serve the community. From free counseling to online resources, there is help available to anyone in need. Reach out and get the support you need today.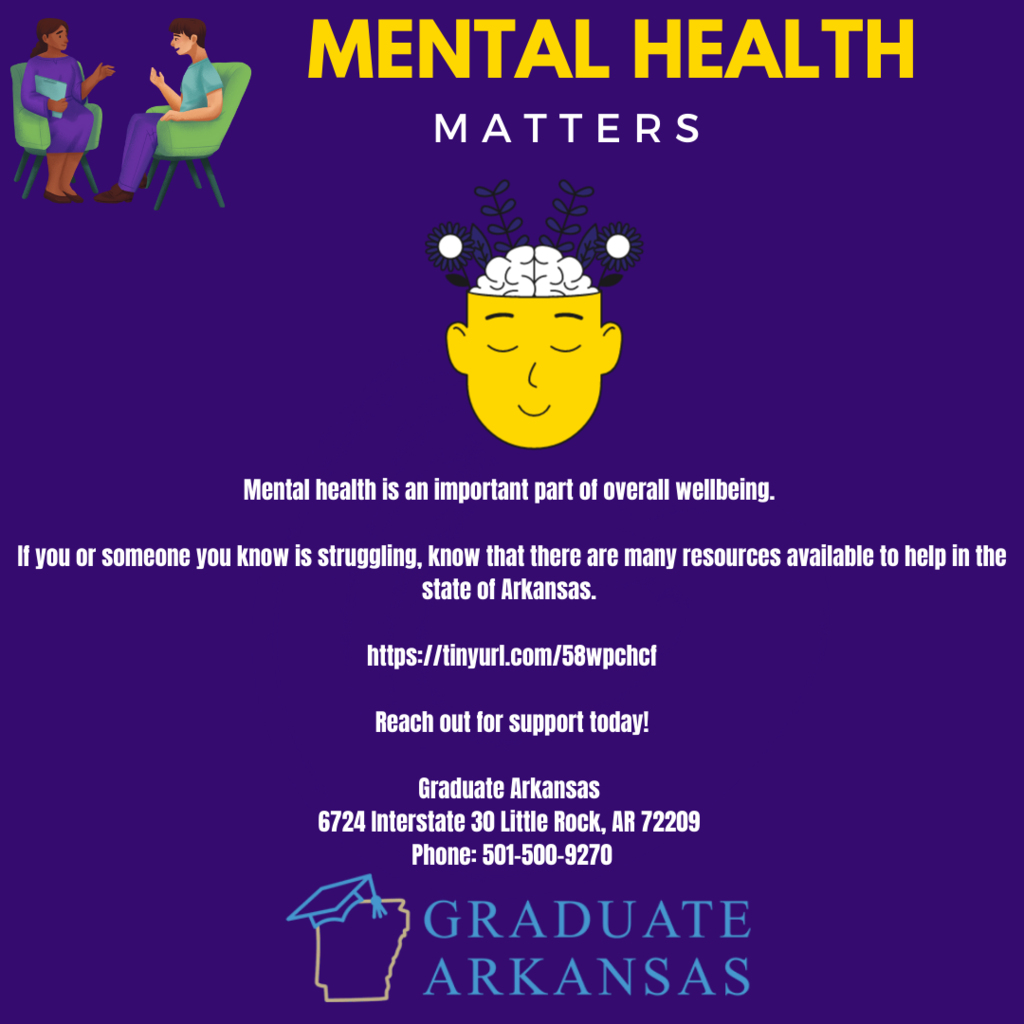 A wonderful opportunity for Graduate Arkansas students! Arkansas Peace Week Essay contest is open to Arkansas students 7th-12th grade. Entries must be submitted by September 6, 2023. Essay should address the following theme: In 2022 the FBI reported that Arkansas has the nation's 4th highest rate of violent crime. How has violence impacted you and your communities? What can be done to reduce violence in Arkansas? 1st Place winners will receive $100 2nd Place winners will receive $50 3rd Place winners will receive $25 Finalist will be announced by September 17, 2023. Award winners will be announced, and are invited to read their essays at the Arkansas State Capitol on September 23, 2023.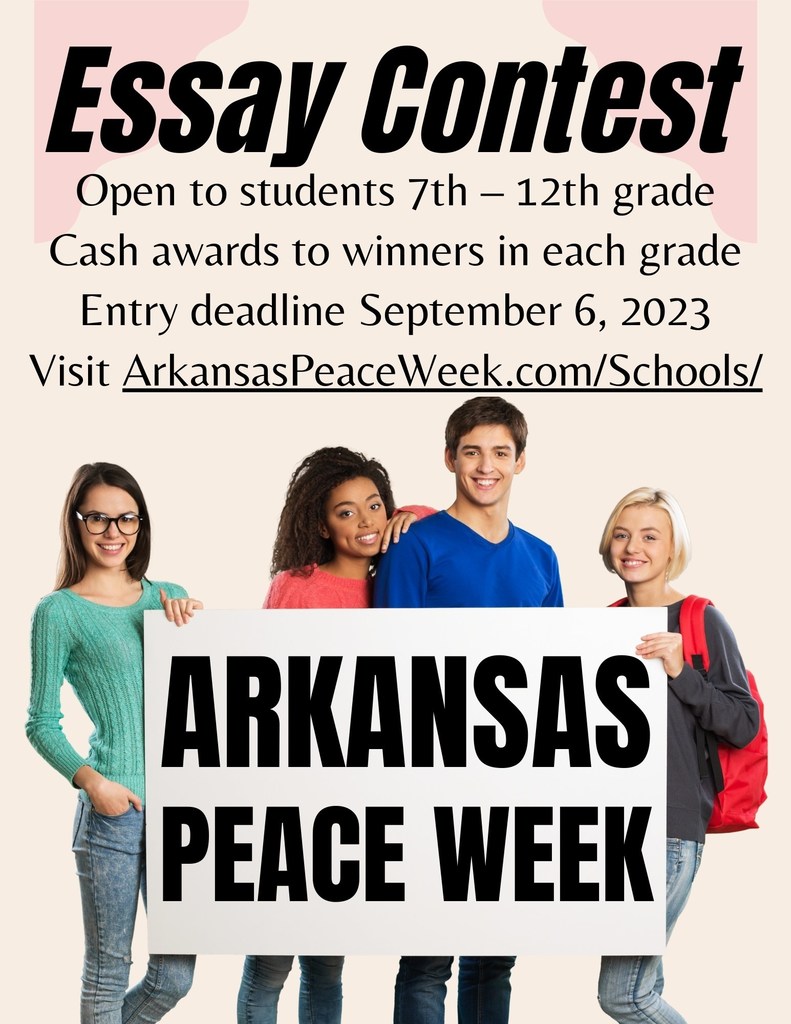 Good morning, Graduate Arkansas Families, "Join us for an unforgettable day of celebration at the Community Wide Event! Indulge in delectable bites from a variety of food trucks, groove to the beats of our live radio station, and seize your chance to win big with our exciting football ticket giveaway. Bring your friends and family for an evening of delicious fun, food, and football frenzy! See you there!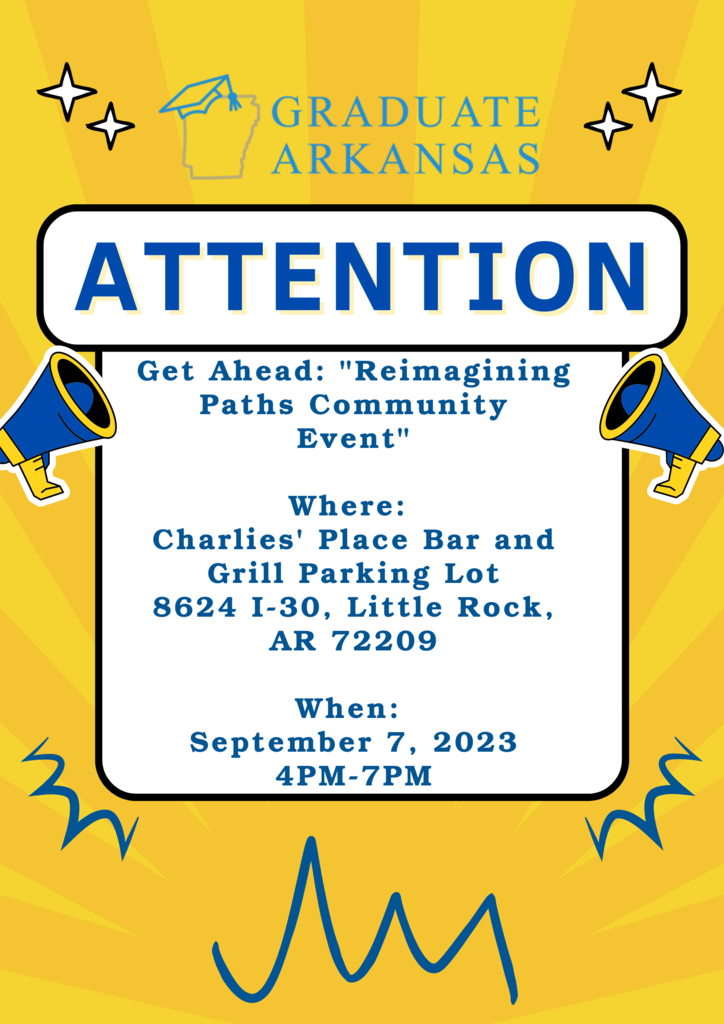 "🌟 Prioritize Your Mental Health in Arkansas! Discover resources designed just for students 🎓🧠. From counseling services to helpline support, you're not alone on this journey. Explore peer networks and self-care tools to thrive. Your well-being matters! 💚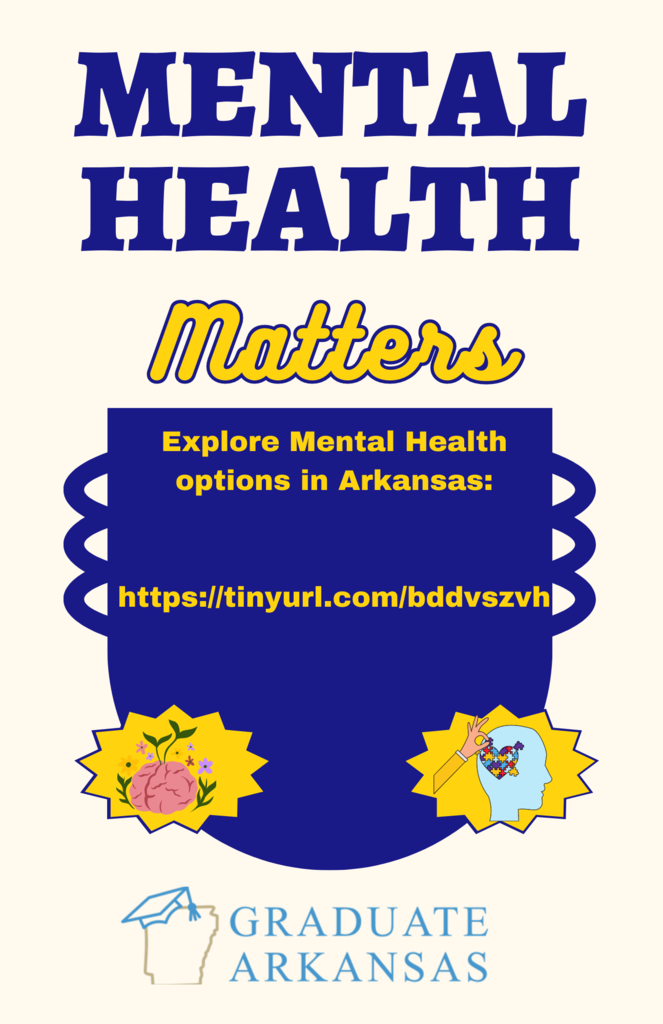 Good morning, GA Families! Please adhere to following announcement: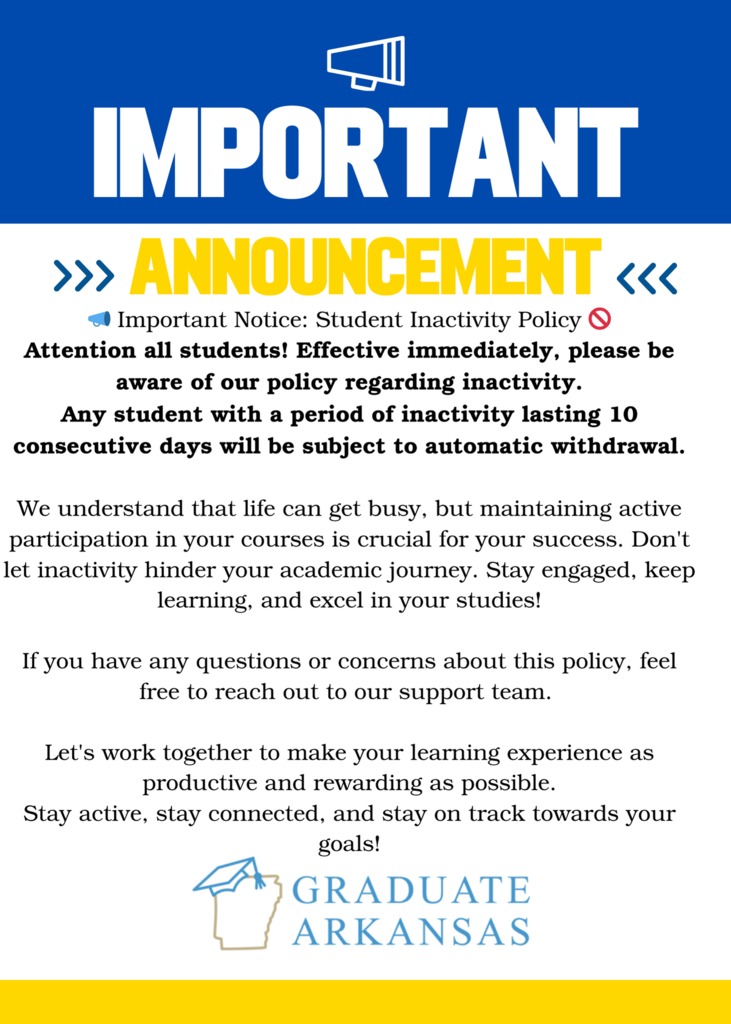 "Building Bonds, Nurturing Minds: In the world of education, relationships matter most. At Graduate Arkansas, we believe that fostering strong connections with our students goes beyond the classroom. It's about understanding their dreams, challenges, and unique personalities. By creating a safe and supportive environment, we can inspire a love for learning that lasts a lifetime. #RelationshipsMatter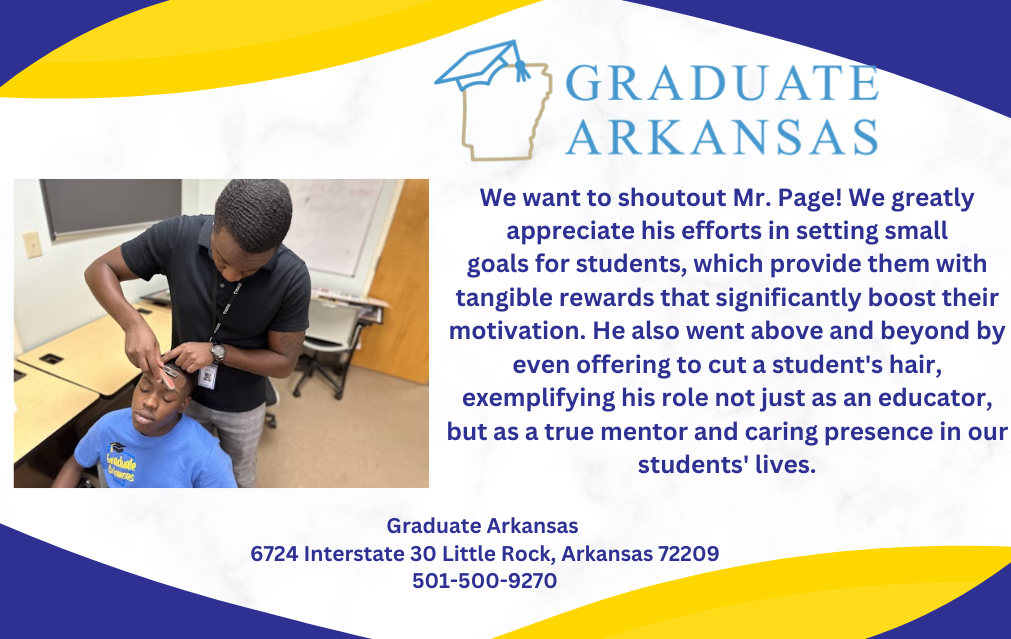 🎉 Exciting News for Students and Parents! 🎉 Graduate Arkansas Charter High School is hosting a Community Engagement and Enrollment Event on September 7, 2023 🏫🌟 📅 Date: September 7, 2023 ⏰ Time: 4:00-7:00PM 📍 Location: Charlies' Place Bar and Grill Parking Lot 8624 I-30, Little Rock, AR 72209 📢What's in store for you: ✅ Learn about our innovative curriculum ✅Meet our passionate teaching staff and mentors 👩‍🏫👨‍🏫 ✅ Connect with fellow students and future classmates 🤝 🎓 College and Career Exploration: For those navigating the path towards higher education and professional aspirations, we've got you covered. Explore a variety of college options, gain insights into different career paths, and learn about resources that can help you make informed decisions about your future. 🚚 Food Trucks: What's an event without great food? Indulge in a delicious array of culinary delights from local food trucks, offering a wide range of cuisines to satisfy your taste buds. It's the perfect opportunity to refuel and recharge as you engage with fellow attendees. 🌐 Networking Opportunities: Expand your network and forge valuable connections with like-minded individuals from various backgrounds. Whether you're a student, a professional, or someone looking to make new friends, our networking sessions will provide the ideal platform to exchange ideas and experiences. Power 92 Jams and Broadway Joe will be at this event which will be present for networking, engagement, and promotional activities, including a football game ticket giveaway. At Graduate Arkansas Charter High School, we're dedicated to nurturing your talents and helping you reach your dreams. Join us for an interactive event that could shape your educational journey. Parents and students, don't miss this chance to be part of a vibrant educational community. Let's embark on a journey of growth and success together! Spread the word, share with friends, and let's make this event a resounding success! 🎓
We are off to a great start GA Families!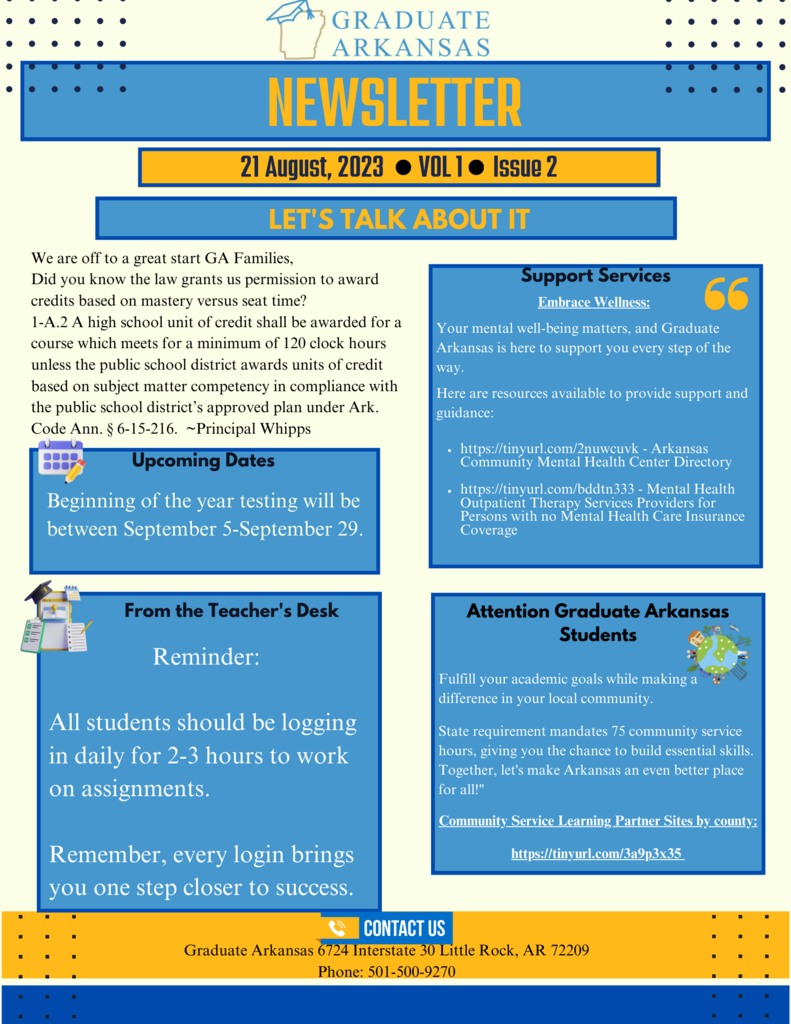 Good morning, Graduate Arkansas! We are excited for another day of learning and growth! As you embark on your educational journey, we wanted to send you a friendly reminder about the importance of logging in daily. Your commitment is key to your success and the vital online classroom community we're building together.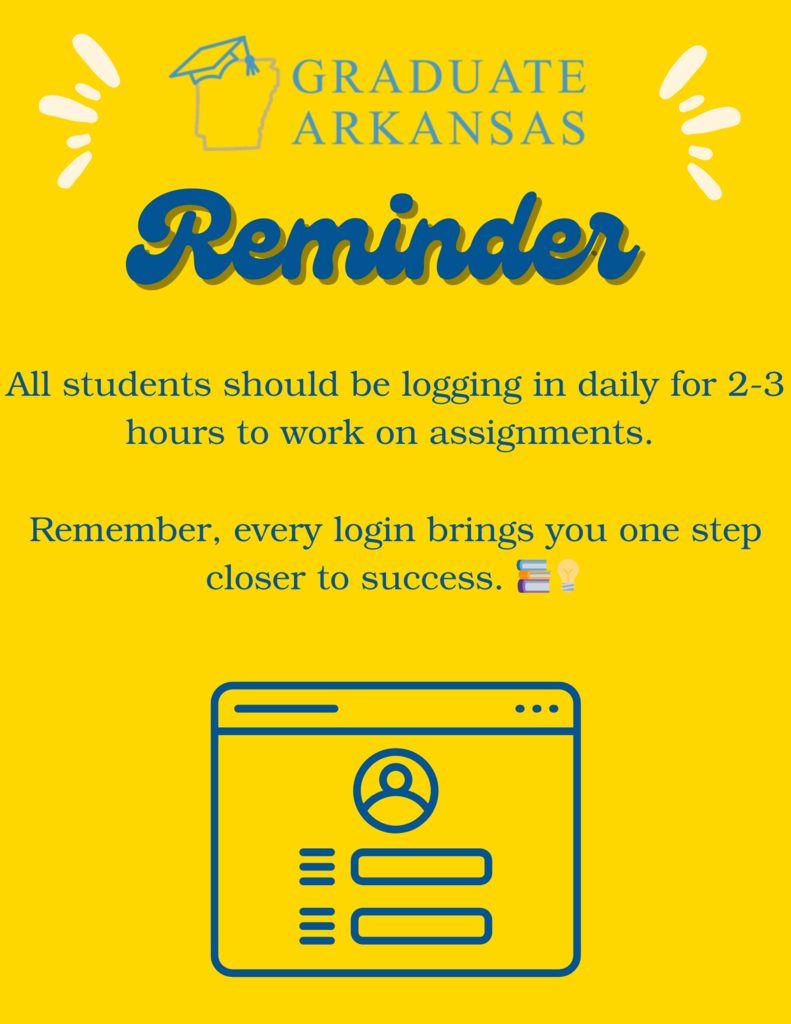 "🚀 Unleash the Power of Learning with Edgenuity! 📚💡 Dive into a world of personalized education where students take the reins of their learning journey. While learning from home, Edgenuity offers a dynamic online platform that adapts to your pace and style. 🌐✨ From interactive lessons to engaging assessments, get ready to thrive with a curriculum designed to inspire and empower. Join Graduate Arkansas today! 🌟📖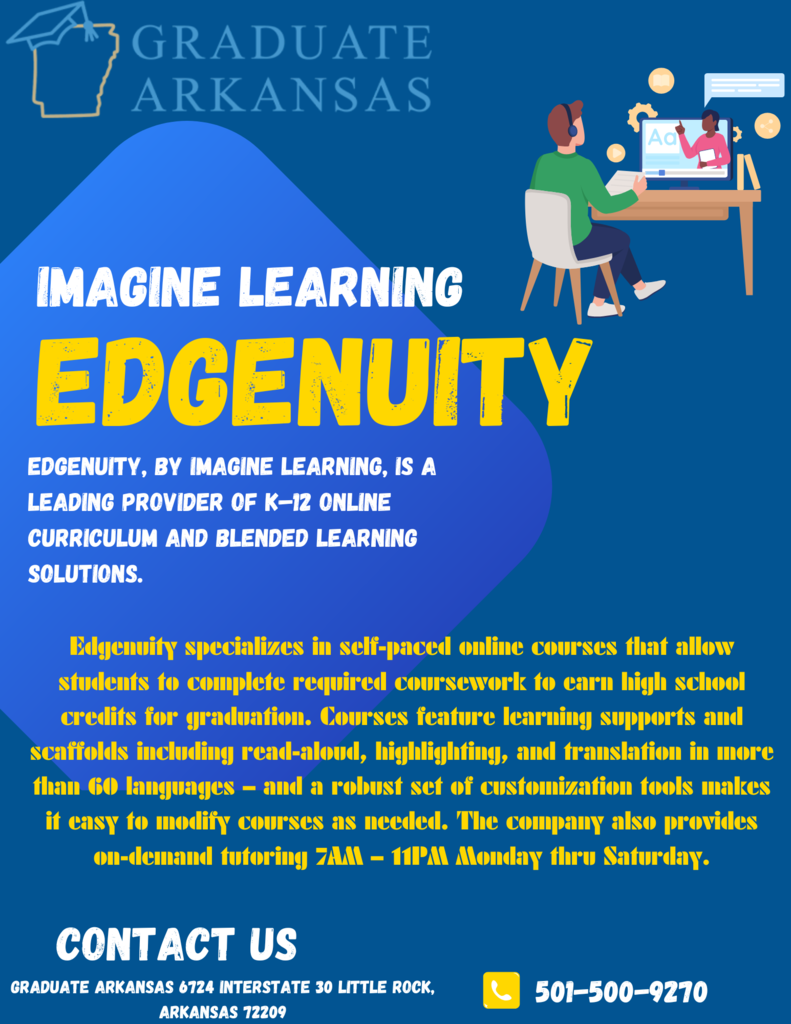 We are thrilled to invite you to join Graduate Arkansas's Family and Parental Involvement Committee and Health and Wellness Committee. At Graduate Arkansas, we strongly believe that the active participation of parents, students, and community members is crucial in shaping the educational landscape and promoting the well-being of our youth. Click the links below to join! Family and Parental Involvement:
https://forms.gle/2CWQYZNH8r3PdVCP9
Health and Wellness:
https://forms.gle/eyynaizpZa8aW3tN8
*Little Rock, Arkansas Families* #DropoutRecovery #DropoutPrevention #Ages15-21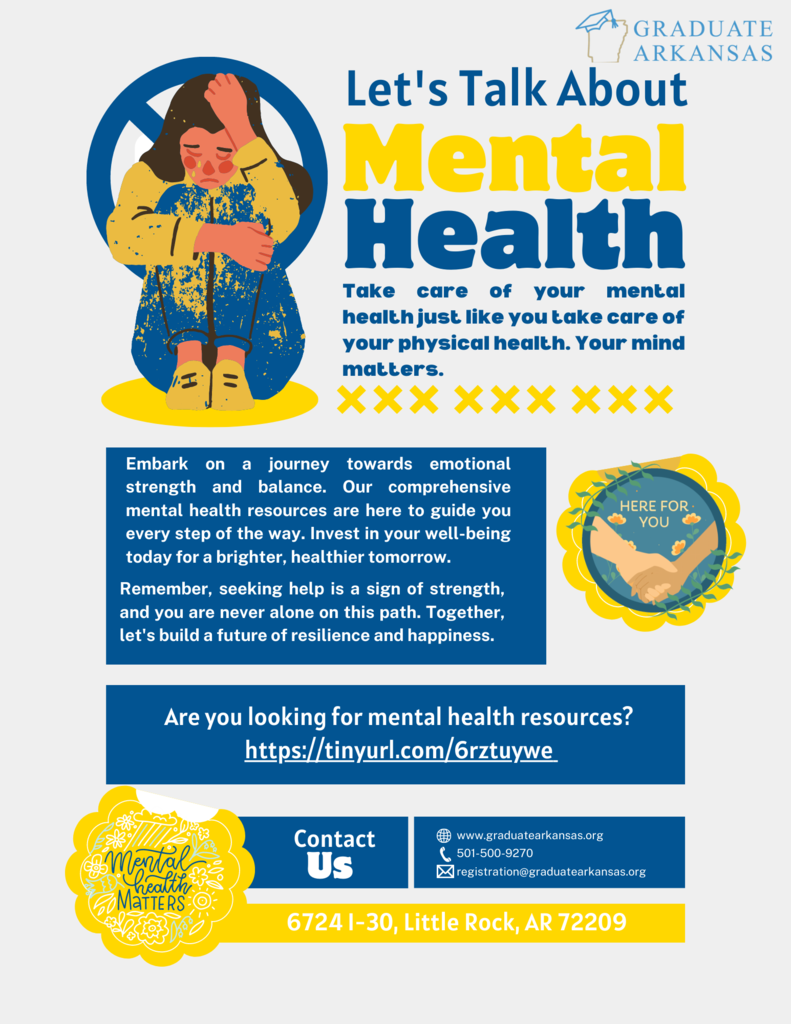 #DropoutRecovery #DropoutPrevention #Ages15-21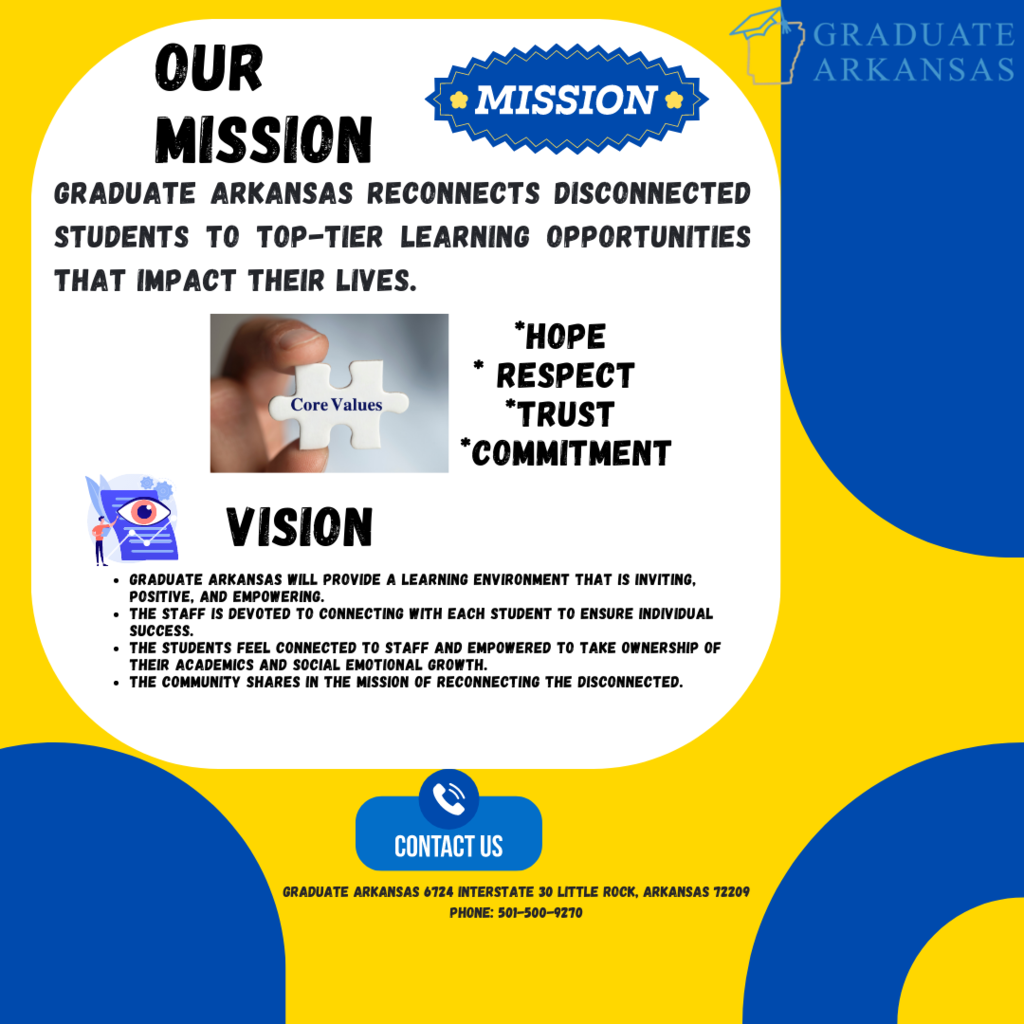 Welcome back to all our GA Families!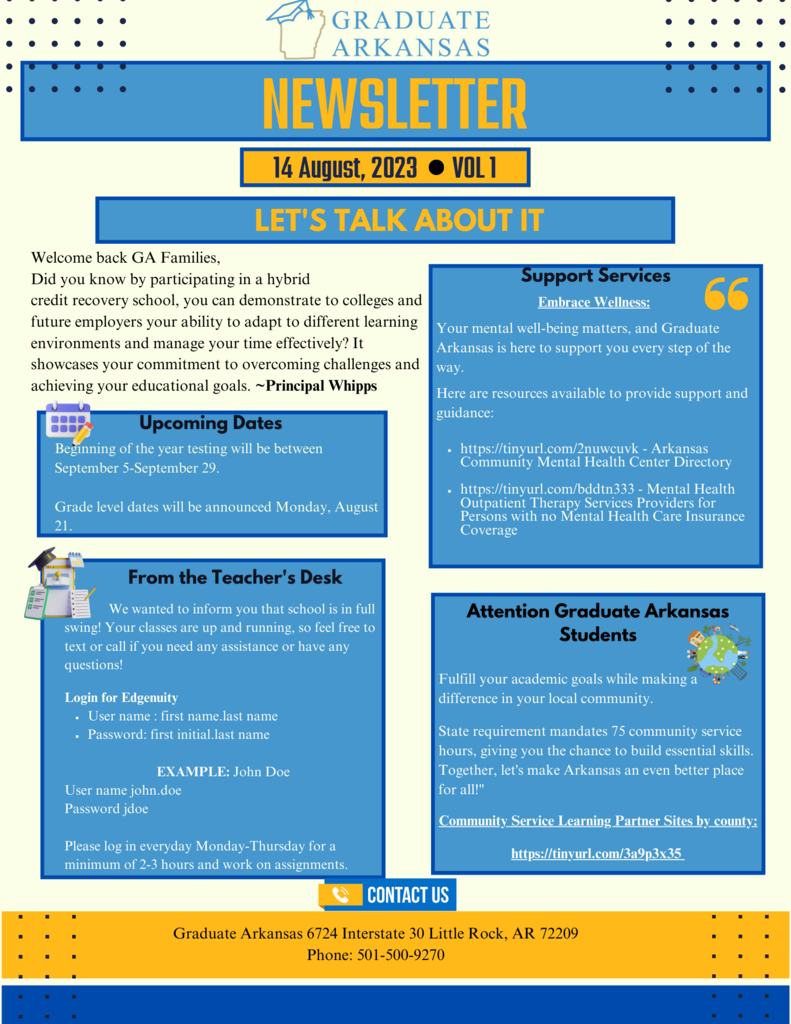 Thank you Bobbie D's for hosting our staff lunch during PD week!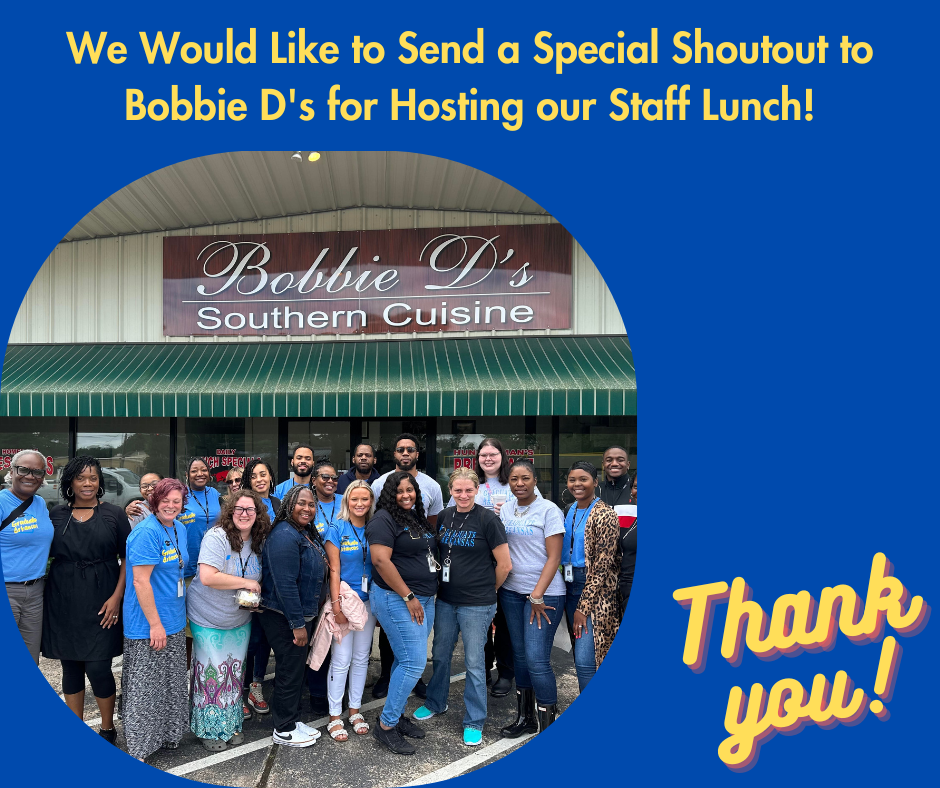 Graduate Arkansas educators have worked together to share ideas, strategies, and resources aimed at improving instruction and student learning outcomes. Welcome back teachers and students!